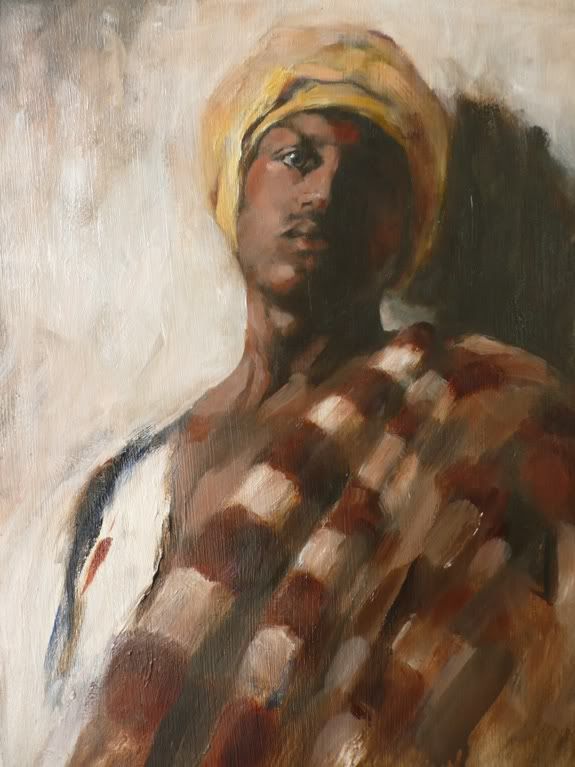 [Painting Study by Sean Patrick McArdle]

This weekend, my husband finished (well, artist's really never do consider their pieces finished, do they?) this magnificent painting of Frank Duveneck's The Guard of the Harem. Being someone who is lucky enough to possess a very well-trained eye for a beautifully rendered piece of art, yet having no artistic talents of my own, I am forever in awe of those who can turn a blank canvas into a brush stroked masterpiece.
Duveneck painted the original in 1879, and it is now part of San Francisco's DeYoung Museum's permanent collection. From the moment we saw this painting, both of our hearts were captured, (Yes, we have a tendency to love the same pieces of art!) for the eyes of this Guard just seem to draw you into his world of power, intrigue, betrayal, and longing.

In Sean's ongoing quest for learning, we sought permission from the DeYoung Museum for an on-site study of this particular Duveneck piece. After finally working our way through the proper chains of command, we were given a disheartening answer of NO. The reason being is because oil paint mediums have drying agents in them and these fall into a "hazardous solvent" category, a rule that has been established by San Francisco's new Health and Safety Commission. However, he was more than welcome to use other drawing/painting materials such as pencils, color pencils, oil crayons or water colors. Absurd! How can one possibly do a knowledgeable study by using other mediums than the chosen medium (oil) of the masters?
The Louvre (as well as most European museums) has promoted this form of study for centuries and it has proven invaluable to artists (which gives us another great reason to relocate soon!).

Obviously, this obstacle didn't stop Sean from continuing his desire to learn, so he took numerous high resolution digital photos as well as slides, and we made many trips to the DeYoung in order for him to capture the secrets (for example, only 5 colors were used in this entire painting) of this Guard's magnificence. Despite not being able to set his easel and canvas up inside the museums walls, I believe his painting is an incredible piece of work by a talented artist who never lets the word no stand in his way.