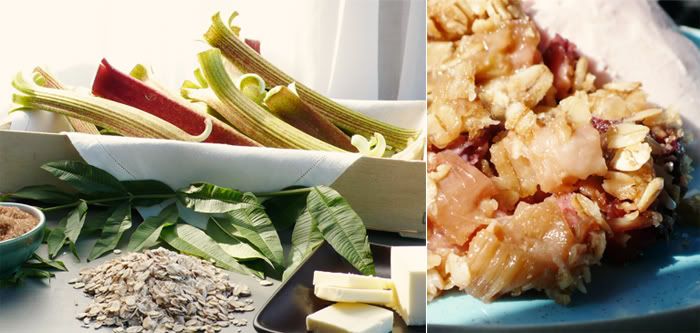 A wooden crate filled with rhubarb and fresh herbs (including my favorite, lemon verbena) hand-picked by my lovely friend, Sherry, greeted us upon our return from the South. You see, Sherry is a Southern Belle too, and she gets it ~ she knows just how wonderful it is to welcome someone home with a perfectly simple gift of home-grown goodness! This crate was just what the doctor ordered to set my baking heart on fire again!
Lemon-Verbena Rhubarb Crumble
8-10 Stalks of Rhubarb cut into small 1/4 chunks
1 cup of turbinado sugar (or brown sugar)
1-1 1/2 cups of rolled oats
Place rhubarb in a non-reactive bowl/pan (I used a ceramic baking dish) and sprinkle with sugar.
Allow rhubarb and sugar to sit for approx. 3 hours., and then strain liquid contents of dish into a small saucepan. Replace rhubarb in baking dish. Bring 'sugary substance' to a boil and remove from heat. Add lemon verbena and let steep for 15 minutes, then drain into bowl (discard leaves).
In a separate bowl, mix the remaining sugar, rolled oats and butter together forming a chunky mixture (you may wish more/less butter and/or oats). Pour the infused sugar 'syrup' over the rhubarb and then add the 'crumble' topping. Bake at 350 degrees for 45 minutes - 1 hour (or until the rhubarb mixture is bubbling and the topping is golden brown). Serve warm with a dollop of ice cream or sorbet!
[Reverie-Daydream Images]