"If you look at style - A French woman with no boundaries, a perfectly tailored Italian woman, an American rock star from the 70s, and a Mexican legend, you would get Freda Salvador... I am FRĒDA SALVADOR . Daring, Tailored, Free Spirited and Artsy." ~ Megan + Cristina
These two ladies are exactly what
FRĒDA SALVADOR
is all about: Cristina Paloma and Megan Papay are the creative and stylish masterminds behind this new San Francisco-based shoe line which debuts this fall. I've been honored to call these girls friends and to watch their much anticipated collection evolve from the beginning. Cristina and Megan are the real deal when it comes to fashion brilliance and classic trends. Even on play-dates, Megan arrives pairing a vintage frock with cool kicks and a buttery-soft leather Italian bag, and she does it with effortless panache. These girls can mix-n-match patterns and designs like nobody's business. They take fine Brazilian leathers and bring them to life with graphic pony-hair prints creating versatile shoes for every woman who appreciates stylish wearable goodness on their feet. Each element of their shoes has been designed/made with a labor-of-love; trust me, I've seen them lament over brass hardware and insist on replacing already completed shoes with the exact ones they envisioned [not too shiny or too dull, but just perfect brass according to the Freda standards]. I'm beyond proud of Cris and Megan, and I cannot wait to see
FRĒDA SALVADOR
shoes donned on chic feet all around the globe.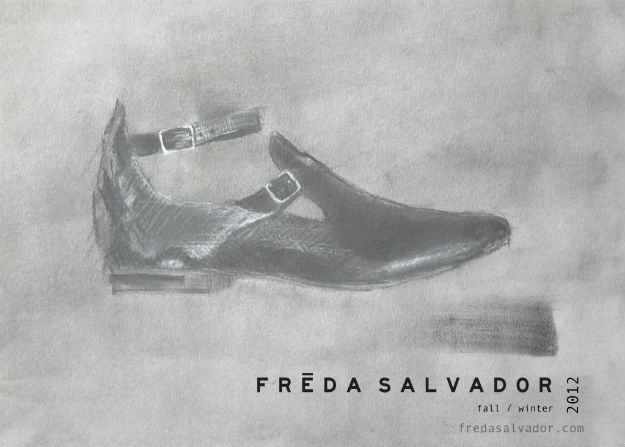 And did I mention how cool the Freda ladies are? They commissioned a sketch by
Seán
for the their Saks Fifth Avenue NY shoe floor debut during New York's Fashion Night Out in August. Seriously, my proud meter for those I admire is going off-the-charts as of late.
So if you live in the San Francisco Bay Area clear your calendar for the FRĒDA SALVADOR Launch Party/Trunk Show on Thursday, September 20th at 6:00 PM at La Boutique-Galerie, 414 Jackson Street, San Francisco, CA.
If you are interested in attending email the Freda girls at

info@fredasalvador.com

and they will add you to the list.
[all images and
FRĒDA SALVADOR lookbook by
Seán Patrick McArdle
]