Summer is almost here, and we are packing our bags for a European getaway inspired by what we fondly refer to as our "Summer 2008 Workshop Circuit". Last June, we packed up Sean's painting easel and supplies along with our then four-month-old, Gaia, and departed from our home in San Francisco and headed south on the Pacific Coast Highway to the quiet beach town of Encinitas in Southern California. The destination was
The Watts Atelier of the Arts
where Sean attended a 3-day portrait drawing workshop followed by a consecutive 3-day portrait painting workshop instructed by Jeff Watts. The workshops were filled with intense model studies, insightful critiques, and overall generous instruction by Jeff Watts who has the gift of being able to verbally articulate his methods and techniques while masterfully demonstrating in charcoal or oil. It was quickly discovered that Sean and Jeff share a unique rare convergence of admired artists – specifically Nikolai Fechin, one of Russia's most important portrait painters of the 20th Century.

In following this great inspiration of past and present artists, we headed east through the desert heat to The Taos Art Museum which is housed in the former home and atelier of Nikolai Fechin. While the collection, of over 300 works of art, is worth the journey to remote Taos, we were headed there for another reason: The Taos Art Museum was hosting a special exhibit titled "Two Nikolai's". Nikolai Fechin alongside Nikolai Blokhin, a young Russian master of our era who is inspired by his native born Fechin. This was a 3-day drawing workshop, over the 4th of July weekend, in Nikolai Fechin's North lit atelier adjacent the Fechin House. (Yes, my husband was in pure bliss!) While Nikolai Blokhin is an instructor at the prestigious St. Petersburg Academy of Art in Russia, this was the first time he agreed to hold a drawing workshop in the United States. Blokhin conducted this workshop by masterfully drawing in charcoal with an occasional verbal explanation through a translator provided by the Downey Gallery where Blokhin is represented in Santa Fe. Drawing is a universal art, and Blokhin has the remarkable ability of bringing his figures to life and mixing everyday beauty with whimsical artistic themes such as ballerinas, gypsies, Native Americans, and fortune tellers.

After a few weeks back at home, the workshop circuit picked back up in August, with our now 6-month old Gaia, we traveled to Philadelphia where Sean attended a two-week Advanced Portrait Painting Workshop at the Studio Incamminati with Nelson Shanks. The artistic highlight of this workshop was working with the light and shadow, then refining form and shape and finally interpreting and opening ones eyes to color. I believe Sean will never see color the same way again! The highlight of the two weeks occurred one special evening when Nelson painted his wife Leona Shanks in front of a packed audience who knew they were witnessing a moment which would live on well beyond that warm evening in Philadelphia.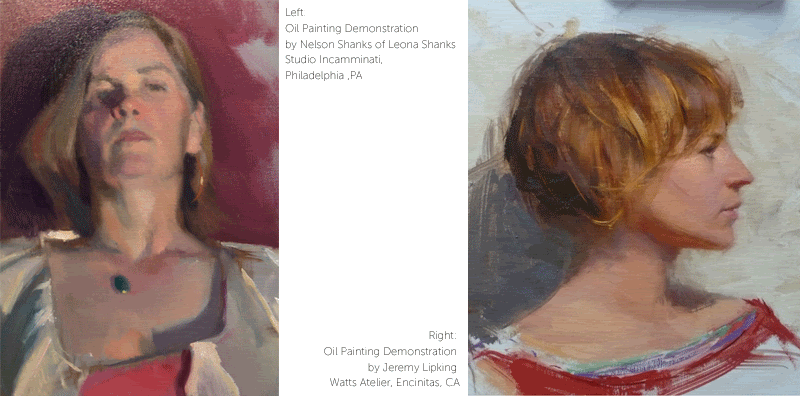 Nearing the end of the summer, we squeezed in one last, could not pass up, 3-day workshop with
Jeremy Lipking
at the Watts Atelier. Lipking's brushwork is impressive, and he is also a mutual admirer of Anders Zorn, John Singer Sargent and Joaquin Sorolla among other late nineteenth century painterly realists. This was a perfect conclusion to a great summer.

So 2008 will fondly be remembered as a year filled with artistic pleasures, and we could not wait to continue this trend into 2009. We are leaving for Spain in two weeks, where Jeff Watts will each be conducting a week-long workshop at the
Bravura Academy
in the Andalusian village of Arcos de la Frontera. Sean has always dreamed of painting figures in the wonderful tradition of Sorolla, Zorn and Sargent, and Gaia and I will explore the beautiful village of Arcos and the 13 rural acres of the Cortijo Mesa de la Plata hotel.


Micaiah Hardison
, the brilliant mind behind Bravura Academy, has arranged this retreat workshop filled with a week of exciting events. He strives to inspire students and instructors with an authentic Andalusian experience amidst the magical landscapes steeped in history. We are all looking forward to discovering this land that has been deemed a place "between reality and dream". However, before we arrive in Arcos, Micaiah has arranged, with the Hispanic Society of America, a private showing of Sorolla's work at the Prado on June 15th. We will be attending this once in a lifetime event and are beyond thrilled to be spending time in one of our favorite cities, Madrid. Our bags will soon be packed, and the camera will be in overdrive capturing what I know will be an extraordinary trip to Spain.