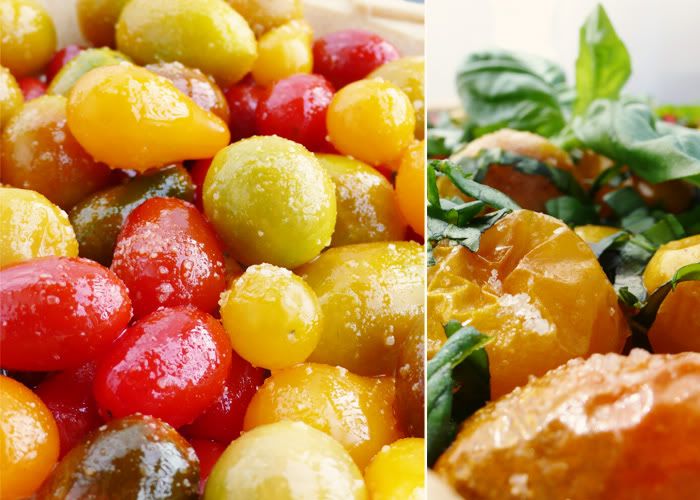 Summertime means delicious tomatoes in great abundance! After a morning of being outdoors, I've always been a fan of a simple tomato sandwich for lunch. Sprinkling sea salt upon the fresh slices of juicy redness, adding a bit of basil, and settling this fantastic grouping upon a chunky slab of olive oil drizzled wholegrain bread = the best!
And now that the crumb has adopted her mama's love for tomatoes (especially the heirlooms), there is always a bowl of this hearty fruit on our kitchen counter. The other evening, I prepared a delicious tart, and it was absolutely perfect paired with a side salad. Easy, healthy, yummy and a big hit ~ my defining elements for a great recipe.
1 - 1 1/2 pounds of cherry tomatoes
6-8 oz. goat cheese (softened)
2 tbsp. fresh basil (roll like a cigar and cut into strips)
Preheat oven to 325 degrees.
Toss the tomatoes in a bowl with olive oil, salt and pepper.
Spread goat cheese inside pie shell.
Arrange tomatoes atop the goat cheese.
Bake for an hour until tomatoes are soft.
Remove and let cool for 10 mins.
Sprinkle basil over tart and indulge while still warm.
[Reverie-Daydream Images]