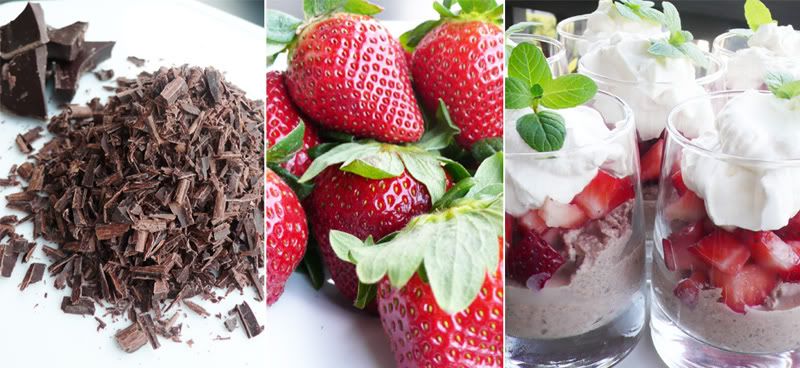 This year, we celebrated Valentine's Day by having dinner with our lovely friends. Each of us played a part in cupid's meal - mine was dessert! Of course, I had to come up with something decadent but healthy, so I decided upon Chocolate Ricotta Mousse. Let's just say, it didn't disappoint (and shhhh, it is SO easy)!

Chocolate Ricotta Mousse
3 ounces of raw organic dark chocolate
1 pound organic ricotta cheese
1 1/2 teaspoons pure vanilla extract
1 Tablespoon of organic honey

Melt the chocolate in a double broiler. Stir the chocolate until it is fully melted.
Combine the melted chocolate, ricotta, vanilla, and honey in the food processor (or mix with mixer).
Process or mix until it is smooth.
If you prefer smoother consistency, add a few tablespoons of heavy whipping cream
and continue to process until desired smoothness.
***Also, I added ricotta cold from refrigerator,
this caused some of the melted chocolate to harden into tiny chunks,
I let it stay this way for an added 'nib' effect.***

Topping:
1 cup organic heavy cream
1 teaspoon vanilla OR 1 teaspoon of maple syrup
Organic Strawberries (or any seasonal fruit) cut into pieces

Beat the heavy cream with the vanilla or maple syrup until soft peaks form.
Add fruit to mousse and top with whipped cream (mint garnish optional).
[Reverie-Daydream Images]