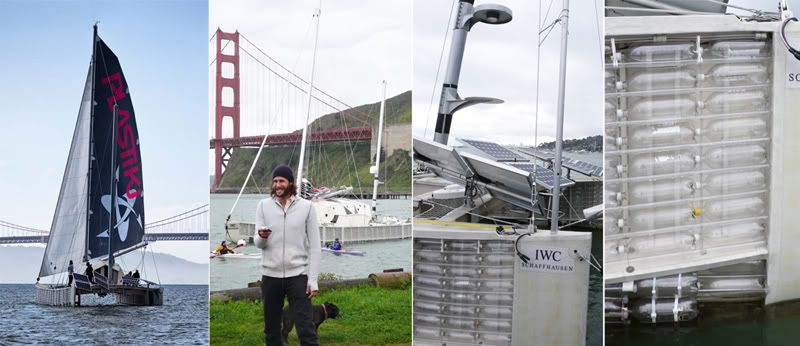 "What we have to do is eliminate dumb uses of plastic.
Thirty-eight billion plastic bottles went into landfill last year."
~David de Rothschild

Hence the premise behind Plastiki, to dramatize the message that plastic is evil and that sailing a 60-foot catamaran across the Pacific [with 68 percent of the boat's buoyancy derived from a matrix of 12,500 recycled plastic bottles] will capture the attention of people around the world.
An engineering feat from conception, the stunt for an environmental cause has evolved into a new way to build. Design 'roadblocks' forced 'think-outside-the-box' solutions resulting in a boat constructed using self-reinforced plastics (no resins). The parts are heat-welded together, or in some cases they're joined with a glue made from sugar cane and cashews. The boat's solar panels are good for 600 watts, and a recumbent exercycle is rigged to produce 7 amps. A hanging hydroponic garden will grow chard, kale, spinach and other leafy greens. The boat's cabin [egg-shaped as a form of biomimicry] has been described as "the ultimate off-grid house". Plastiki is another 'role model' for our future proving once again that it is possible to use recycled goods and build with non-toxic chemicals.
On Saturday, we attended the traditional Polynesian christening ceremony which means the boat is blessed and ready to make its journey. David de Rothschild will, with a six-man crew, sail across the Pacific Ocean starting in San Francisco and ending his journey in Sydney. Along the way, there are planned visits of several sites of ecological importance such as the man-made disaster called the Eastern Pacific Garbage Patch, a floating landfill located between California and Hawaii that's twice the size of Texas. This is definitely a noble mission, and one I personally look forward to following.


[Reverie-Daydream Images]