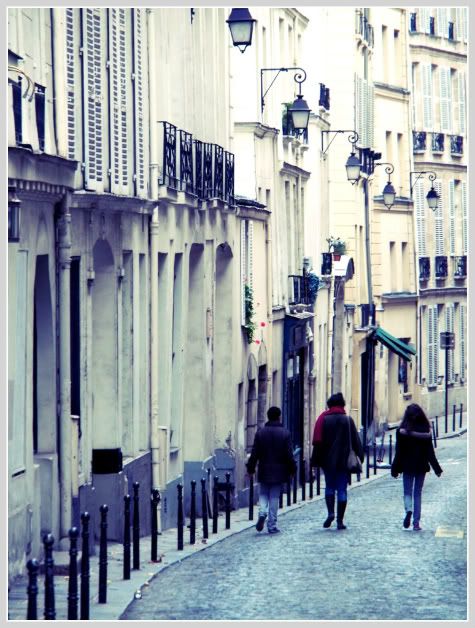 I have always had my head in the clouds… dreaming of something different… wishing upon a star… searching for ways to turn the ordinary into the extraordinary… I think that is why I love words as much as I do… the endless possibilities to stir the imagination and to craft fantasy from the everyday… This is the time of year when we are all wishful thinking. We wish that the holiday season would slow down, that we could gear up our pace a little to accomplish all that we desire. We wish that the year hadn't passed in a puff and that they weren't slipping by quite so quickly and we wish, with all our hearts, that our children's hopes and dreams come true.
When I snapped this photograph in Paris it made me pause for reflection… The beauty of the cobblestones, the architectural details of the buildings, the faded shutters and the hanging lanterns caught my eye… I had to capture that moment. But more than that… It was the family, for I imagined that they were a family, walking in step, in simpatico… with their perfect strides. This image made me wish that time could and would stand still, that this beautiful family could forever walk together through the streets of life harmoniously, as they were on this particular day… My thoughts turned to my own family and myself and I realized there and then that my one true wish was for nothing to change. This moment in our time together is good… great even… may it last…
Melissa, thank you for inviting me to participate in your 'Wishful Thinking' series… it is such a great pleasure to be a part of your exquisite blog amongst such wonderful company. I wish you and your readers a holiday season filled with lots of love, light and laughter… xv
I'm assuming most who read this blog already know the beautiful and lovely Vicki of French Essence. Before I even entered the world of blogging, I knew of Vicki Archer and her exquisite way of life and love for France via her first book, My French Life. Then I found her blog and my heart swelled with glee because I am able to live vicariously through her dreamy world every. single. day. In short, Vicki is definitely one of my heroes, for she lives the life she has always dreamed of and she lives it with grace, beauty, and enthusiasm. I'm still pinching myself that she took the time to share her wishful thoughts on Reverie...merci beaucoup Vicki!
[Image via Vicki Archer]