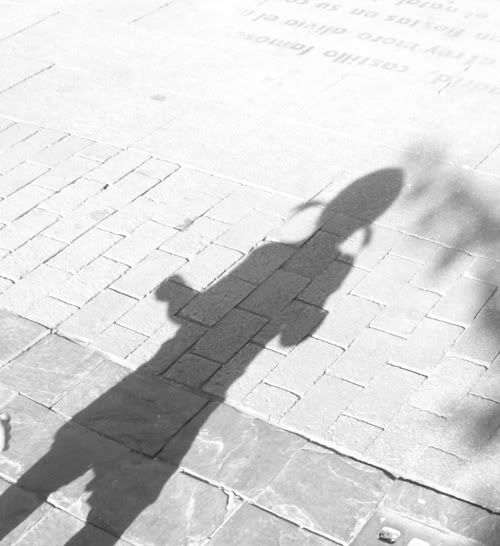 Authors use language as a tool to create art. While I'm more of a visual artist, I am truly in awe of my wife Melissa's gift of the written language. I am also continually impressed with her cherished community of fellow bloggers who produce works of art molded by words.

Last year, Mel, Gaia and I traveled to

Spain

for a painting

workshop

and our annual trip to Europe. One of the highlights for me as a new father was to watch, my then 16-month old, daughter walk in the shadows of literary giants. This image is of Gaia walking along Calle de Huertas in Madrid. Las Huertas district is known as the "barrio de las letras" (the neighborhood of letters). The barrio's namesake, Miguel de Cervantes, author of one of the most important books in international literature, Don Quixote, lived and wrote here for part of this difficult life. His creation, Don Quixote, remains a larger-than-life figure not only in Spain but around the world.
Cervantes also gave rise to words such as "quixotic" describing something chivalrous and idealistic. My hope is that my beloved wife and daughter (and each of you) will be quixotic by continually sharing the command of language as a tool to create art.


[photograph by Reverie-Daydream]