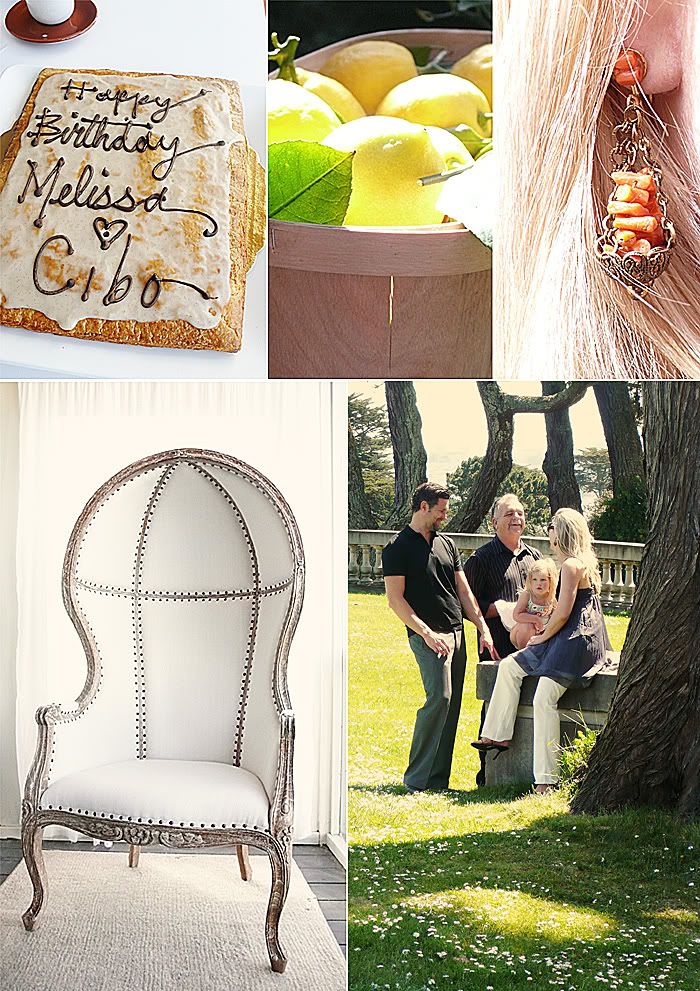 A very dear friend once told me that if you put your wishes out there, they will eventually come true. I made a few birthday wishes this year, and they all came true and then some!
Celebrations continue throughout the month, but this weekend was especially wonderful because my Dad and Step-Mom were by my side for every special moment! There is no denying that I am a total Daddy's Girl, so to laugh, talk, and just spend quality time with him was a birthday highlight.
McDreamy pulled out the 'birthday carpet of love' with my special day planned perfectly from beginning to end. Delivery of a huge bouquet of shiny silver balloons, a freshly baked gigantic organic pop-tart from

Cibo

, an afternoon at the

Cartier exhibit

, and a delicious outdoor dinner with great friends ~ all underneath the sunshine filled blue skies of a 70 degrees day in San Francisco.
Remember when I mentioned this

dream chair

? Well, it is mine! One of the greatest people to ever walk upon this Earth and into my life gave it to me ~ I'm still speechless, but it's easy to be at a loss for words when daydreaming underneath this chair's beautiful canopy.
My little brother surprised me with the gorgeous pair of antique French earrings from

here

(he obviously knows his sister very well!). Gifts, cards, emails, calls and messages came pouring in from so many loving friends and family. Truly, I'm not sure what I did to deserve all this amazing love and goodness that has been showered upon me ~ There are so many creative gifts and stories I want to share with each of you, and I will do so throughout the weeks ahead.
Until then, I'm going to go make some delicious lemon desserts from my birthday basket of

Sherry's lemons

! My sweet mom just arrived, and we have a lot of fun things planned which includes some serious baking!
[Reverie-Daydream Images]