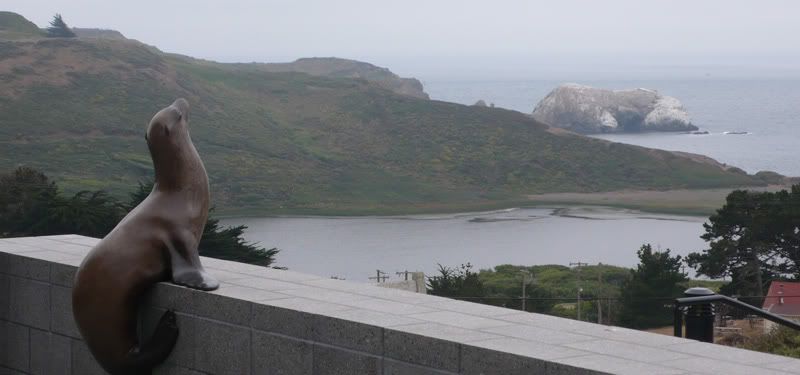 Today, we visited the newly-renovated Marine Mammal Center in Sausalito. If you already didn't know, I am a huge animal lover (land, sea or sky), so everyday I thank my lucky stars for granting me the fortune of living in such an amazing place that is filled with a plethora of nature's magnificent wonders.

The Marine Mammal Center
is a nonprofit organization that rescues, rehabilitates and releases injured, sick and orphaned marine mammals (seals, sea lions, dolphins, porpoises, whales and sea otters) along a 600 mile stretch of California coastline. There were 110 'patients' there today. My heart breaks to see the reasons why most are there - negligence and ignorance of the human race - from fish hooks, plastic bags, fishing nets, water bottles, etc. Environmental and other causes such as abandoned pups were also high on the list. Luckily, these sweet little loves are given the greatest care, by an amazing staff of veterinarians, scientists and volunteers, with the highest hopes of being released back into nature once they are 100% healed and recovered.

This is an incredible facility, not only for the TLC that is given to each mammal that arrives, but also for its environmental-friendly design (recycled and sustainable building materials, solar panels, use of reclaimed water, efficient fixtures and lighting and
more
). With over 800 volunteers, one can easily see that people are very passionate about making a difference. We are all connected on this great planet and being considerate of every living species is a vital commitment we all need to make.
"The greatness of a nation

and its moral progress

can be judged by the way

its animals are treated."





[photograph by Simply Mel]