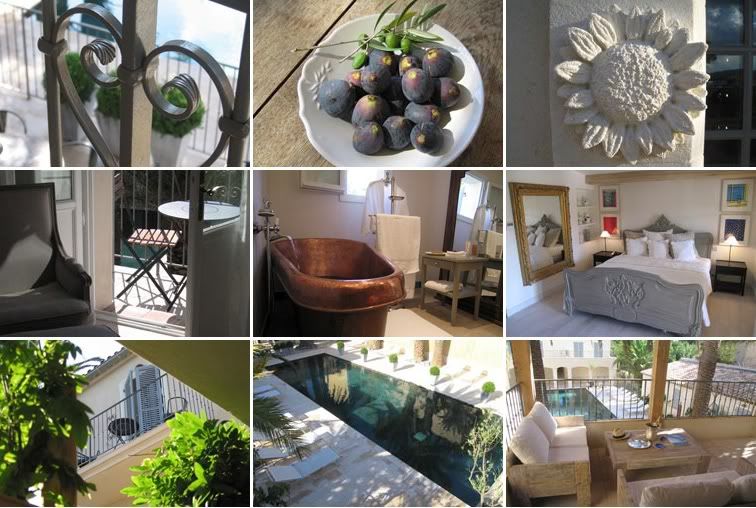 A few years ago, we had the pleasure of staying at the
Pastis Hotel
in St. Tropez. For the last several days, I have been dreaming of returning to this glorious spot in the South of France.

We happened to visit in October during the off-season, so it was quiet and all to ourselves - a very different feel from the 'see and be seen' summers of this popular French beach destination. However, this didn't stop the 'red carpet' treatment we received from the beyond gracious owners, John and Pauline Larkin, and their amazing staff. They truly made us feel like personal guests in their 'home'. The delicious breakfasts, the evenings enjoyed sitting under the stars listening to John's personal cd favorites while sipping on aperitifs, and the delightful conversations we had with everyone there along with the incredible attention to detail made this an unforgettable stay. Our room was so beautifully decorated with soft linens, plush towels, unique objets d'art, a copper soaking tub, and a large sunny terrace for our own private use.

Pauline and John have a passion for Provence. They relocated from the UK to follow their dreams of owning a boutique hotel in the South of France. Now, they provide a dreamy experience for all of those lucky enough to be their guests! The hotel is filled with 20th-century art, paintings and photography as well as furnished with a perfect mix of period and 'modern-classic' pieces. It is one of our favorite hotels in the world. In fact, we could easily just move in and never leave...it's that perfect!