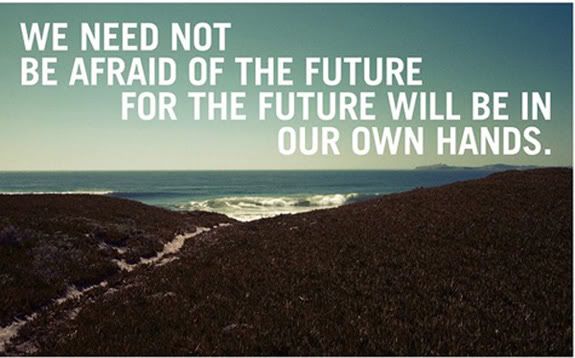 I remember him asking me, his head under the hood of my car as I sat in the front seat revving the engine trying to listen to his directions (gas, brake, gas, brake), what I remembered of my childhood. This was one of the last days I would live in my father's house, a house I wasn't sure I would survive, a house with many secrets and quite a few nightmares (were they all real?). I was 17 when my father asked what I remembered of my childhood. I never looked him in the eyes and I was scared to now but, like all great moments in life, I realized that I had to face my fear and press forward or I would miss IT. I mustered my courage and replied with one word, "fear." I said it, staring straight into his dark eyes, not unlike my own, and said, "I remember fear."
Fast forward 10 years. I am now married and have a kind husband whose past couldn't be more different than my own. Recently I was having a bad day, feeling edgy and irritable, and I spoke harshly to this kind husband of mine over something terribly stupid. He told me the next day that no one had ever spoken to him like that before...ever. Keep in mind that I didn't yell at him or curse or call him names but he said it was the tone that hurt him. See, sometimes, as human beings, we become accustomed to a way of life, a way of communicating, that we think is acceptable, even normal. Being creatures that adapt, we can get so used to darkness that we begin to see it as light. It's like swimming in a deep body of water, getting tossed by waves and then fiercely swimming to the top only to realize we've been heading towards the bottom.
At this point, you might be wondering what in the world this has to do with wishful thinking. Ideally, we'd live in a world where parents don't have to ask their children to forgive them for a childhood of abuse. Ideally, children wouldn't be faced with the overwhelming responsibility of forgiving their abusers. Ideally, abuse survivors would grow up to miraculously have the tools needed to raise children in a healthy environment. But alas, I won't bore you with a beauty pageant wish that all childhood abuse would end. Although that would be nice, wouldn't it?
After digging deep, I realize that my real wish is to be better than my parents. I wish to get to the point where I am not terrified of having my own children for fear of being an awful mother. My greatest wish is that in taking ownership of my own self and shaping my own character instead of allowing it to be done for me, I'll perhaps inspire others to claim there lives for their own. Many people, including some psychologists, believe that abuse victims are forever damaged and that they can't be good spouses, much less good parents. They believe, like a baton in a race, that abusive habits are passed from generation to generation (it was in my family). Well, I choose to reject the baton and I take ownership of that decision. I'll run my own race and it'll be a marathon, no doubt about it.
It stops with me. Maybe it stops with you too? Perhaps, if enough of us come together and reject this way of life, we can prove our pasts, our parents and the psychologists wrong. That's my wish anyway.
Last Summer while visiting my family in Georgia, I had the wonderful opportunity of meeting Christina. She and her handsome husband, B, make the perfect pair in every way. I've been following D&OC since I started blogging, and Christina, with her great design/artistic eye and budget-friendly finds, shares one incredible post after another. What I adore most about this lovely gal is that she is honest, loyal, and has one heck of a big heart!